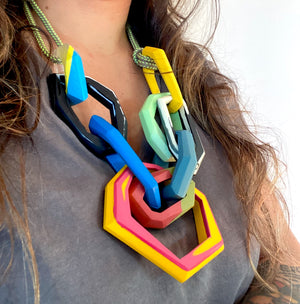 LINK NECKLACES
---
Link Necklaces, est. 2015 are made from pigmented polymers and textiles.
All Links are designed to be interchangeable, interlinking with each other by slotting one into the next one with ease. Here you will find an array of pre-made necklaces in several colour and shape combinations.
The entire range of Links, including Bangles and Cords are fully compatible with each other, this is what makes them highly collectable and so covetable.
---
---