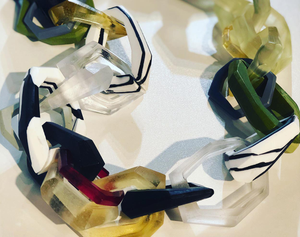 Links
---
Links 
est. 2015
​pigmented polymers, textiles.

A body of Art Jewellery that carries in its core a quality of interactivity and accessibility. Each individual Link is made combining 3D design technology with manual processes, moulded, poured, cast in pigmented polymers and hand-finished.
Links are designed to be interchangeable, allowing the audience to activate their differences by putting together their own piece with the option to incorporate cords. This grants the wearer control over decisions of colour, pattern and rhythm allowing them to reconfigure their designs as many times as they want, to suit their individual needs.
The entire range of Links, including Bangle Links and Cords are fully compatible with each other, this is what makes them highly collectable and so covetable.
Bernal's unapologetic use of colour is a legacy of her upbringing in the north of Chile, influenced by the eclectic colour combinations seen across the multiple craft manifestations of the Andean cultures.
---
---